Samples & Testimonials
"One might think of bullseye glass as a lyrical realisation of water frozen in the moment that the water droplet kisses its surface. They might marvel at the paradoxical nature of such glass, where water and ice are expressed in the work of human breath and fire."
Most images click to enlarge
Excerpted from online forum:
"This door had to be glazed for the sake of light inside, but the glass had to be obscured. Bullseye glass was always the first choice, and I found it in America where it is hand-crafted by Robert Lichtman of Sugar Hollow Glass in Connecticut. What a pleasure to talk to the maker himself (about, for instance, the radius of the circles the size used here, 7in x 7in, is about as small as you can go). And the result is a thrill every time I look at it. People generally think of the US in terms of big business. I think its defining strength is little businesses like this one. Thank you, Robert it was a great pleasure doing business with you." —Mark in France
| | |
| --- | --- |
| | "I just purchased three pieces of your bullseye panels and I want to tell you that they are beautiful. I am enclosing a photo of the panel that I made for my daughter Michelle. It's going in her pool house. I think it came out great. Thanks to you and your great glass artwork. Thanks again, Jim" |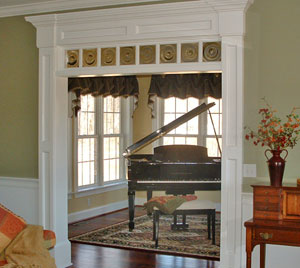 I thought you might like to see how your wonderful work is incorporated and put to use by others. I am finally getting pictures off to you! First, I would like to thank you for having such a talent! As you can see by the pictures, the transom that incorporates the handblown bullseye glass and the millwork surrounding it is just spectacular! EVERYONE, and I do mean EVERYONE, absolutely LOVES it! Robert, it MAKES our living room/dining room/piano room! WE LOVE IT!!!!!!! It is gorgeous!!!!! The millwork is on both sides and is nothing short of stunning. The bullseye glass makes this entire piece look timeless and we are beyond thrilled at what it has done to the architectural intrique we are trying to incorporate into our home. I am looking forward to coming up with more ideas on how to use the bullseye glass in the near future as we continue to make our home more visually intriguing. This was a home run! Thanks again for being such a talent and making our work look sooooo good! All the best... Sylvia
"Thank you so much for the beautiful glass. The package arrived in great shape—very impressed with the care that went into putting the glass into the box. I look forward to seeing my door outfitted with these wonderful bullseye panes. I will certainly pass your name on to others who are looking for this product.Thank you again, for the beautiful craftsmanship that went into the making of this glass."  CF
| | | |
| --- | --- | --- |
| | | "I thought you'd like to see what we did with the bullseye glass that you made. It is a vertical sidelight, and it looks really sharp! Thank you for the glasswork--the effect is excellent, just how we imagined it in terms of appearance, dimension, style. Thank you for sending the color samples of your glass--it made it clear which direction we should take." - SF |
"The two panes of bullseye glass arrived here safely and are now in place in our front door. They are beautiful, and we are thankful that there is still an artisan that does such work. We wouldn't have found you, if we hadn't seen your advertisement in "Early American Life" magazine. Thank you again for your fine work, and your packing of the panes for shipping was super. We have the prettiest front door in Hendersonville and a "southern" early American home!
Thank you again," S.C.

Starfish Bullseye Glass
"Enclosed is a picture of our front door, which we all love, even our granddaughter who has her arms up in praise of your talent. Enclosed is a check for two more pieces... I plan on giving them to my brother for Christmas as a special gift." Many thanks - SB
email: Robert@SugarHollowGlass.com
Sugar Hollow Glass
24 Easton Road
Westport, CT 06880