Rates & General Information
Bullseye glass is available cut to any size up to 8 x 8.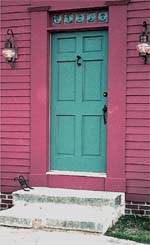 Sizes up to 6 x 6 are $70 each
Sizes up to 7 x 7 are $85 each
Sizes up to 8 x 8 are $100 each
Colored glass is $5 extra per unit
Terms

All orders must be prepaid or sent C.O.D.
Checks or money orders are made out to Robert Lichtman
CT sales include 6% sales tax
Shipping cost is $15, east of the Mississippi river for orders under 10 units and $25 west of the Mississippi.
$1 more per unit for orders of more than 10 units
C.O.D. is $10 extra
Shipping time is generally 2-4 weeks.
Email: Robert@SugarHollowGlass.com
Sugar Hollow Glass
24 Easton Road
Westport, CT 06880